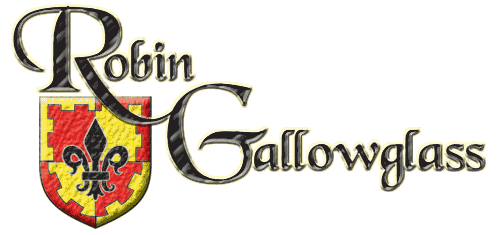 "Just who is this Robin Gallowglass character anyway?"
.:: Home ||
Web Graphics
||
Slat Bed
::.

Just who is this Robin Gallowglass character anyway?
Robin Gallowglass is the persona that I developed for use in the Society for Creative Anachronism (SCA). Robin is currently a 16th Century mercenary who has joined the crew of the Pirate Ship Cloven Nemesis.
What is this page?
This is a web page that I've put together for my activities within the SCA. Here you will find a little bit about my persona and what I've done and are currently doing in the SCA. You'll also find a collection of various badges and other graphics that I've created that I give permission to be used on SCA webpages.
What's the shield for?
That is my arms. In the SCA, we have our own College of Arms that registers names and armory for use within the SCA only. In 1993, I registered my name and "Quarterly gules and Or, a fleur-de-lis sable within a bordure embattled counterchanged". There's no other significance to it other than I like red, yellow and fleur-de-lis'.
When did you join?
I first joined the SCA back in 1981 when I lived in Texas, known as the Kingdom of Ansteorra.
Have you been active ever since then?
I was active for a few years until I moved to Houston and got involved with the Guardian Angels. In 1987 I joined the Army, and after tech school, I ended up in Germany, which is now the Kingdom of Drachenwald. At that time, it was only a Principality of the East. One day at a unit gathering, I was walking along the road and saw elbows and hands that kept popping out from behind a cars trunk lid. These motions looked awful familiar to me, so I walked over, and sure enough, there was a fighter armoring up. Once again, I had found the SCA and starting going to events again.
Shortly after that (1990), I was discharged from the Army and ended up in New York, which is part of the East Kingdom of the SCA. I got in touch with the local group, the Crown Province of Østgarðr. It was there that I finished learning how to fence, started to learn about heraldry, really started down the service path and met the Lady (Shannon Gallowglass) who would eventually become my wife. I started as the Deputy Chronicler of the Seahorse and then later I became the Chronicler. Because of my work on the Seahorse, Their Majesties Randal and Katherine honored me with an Award of Arms on the day that my Lady and I were moving to Philadelphia. We packed up the U-Haul truck the night before, drove it to The Return of John Barleycorn, attended the event, and then drove to Philadelphia!
Once we arrived in the Barony of Bhakail (well, actually, the Bailiwick of Ivyeinrust which is a subordinate group of the Barony of Bhakail), I continued to fence and further develop my knowledge of heraldry. My helium hand affliction also really started to manifest this time, as I briefly served as the Baronial Marshal of Fence and Shannon and I got involved with the revitalization of Ivyeinrust, where I served as it's Herald.
After about a year, Shannon and I moved north a bit to Buckland Cross. At the time, Buckland Cross was a canton of Bhakail. They have since become a Shire and seem to be doing a great job! Once again, I couldn't keep my helium hand down and became the canton's chronicler and herald. See a pattern developing here? <grin> As always, Shannon was always there to lend a hand despite having her own duties to fulfill. During this time, I also took the required courses, and became a chirurgeon. After about 2 years, Shannon and I took a break from the SCA and only occasionally attended events, got married and moved to Delaware.
Very shortly after moving to the Shire of Caer Adamant (like the day we moved in!), Shannon and I were asked to throw our name into the hat for the upcoming officer elections. Once again, I was the herald. About this time, the web was starting to really get big, so I also ended up becoming the Shire's web minister, and with the help of Shannon, designed the web site. Shannon took over as the web minister for a while before turnign it over.
In late 1999, a notice was printed in the Pikestaff (the Kingdom Newsletter) looking for a new Kingdom web minister. After thinking about it, I decided that I had griped about the Kingdom website enough that I couldn't pass this up, so I wrote to the Kingdom Chronicler and asked a few important questions. I was happy with the answers, and officially put in a letter of intent. At East Kingdom 12th Night in January of 2000, I knelt in front of Their Majesties Lucan and Marieke and swore to serve the Kingdom as it's new web minister. Working with Shannon, we quickly revamped the Kingdom web site to be easier to maintain and gave it a completely different look. I made the techie bits work, and Shannon made it look pretty. In July of 2001, Their Majesties Hans and Olivia caught up with Shannon and I, and made us both Companions of the Order of the Silver Crescent for our service over the years to the East Kingdom.
In September of 2001, I received a call from Mu'allim Rabah az-Zafir who was the Vice President of Communications for the SCA at the time. It seemed that he may need somebody to take over and maintain the main SCA website, and was I interested? I didn't have to even think! Of course I said yes! Then at Kingdom Crusades in early October, Master Kevin of Thornbury (who was the Electronic Publications Manager for the Society at the time) informed me that he had asked the Board of Directors to warrant me as his Emergency Deputy. At the October 2001 Board meeting, the Board of Directors approved Kevin's request to warrant me as his Emergency Deputy and then relieved him of his duties, making me the Acting Electronic Publications Manager! When I found this out, I promptly called my Emergency Deputy, Lord Ronan Lynceus, and told him "Tag, you're it!"
Even before the meeting, I had contacted a few people and put together a small group (Shannon, Lord Lorcan Dracontius, Mistress Jessa d'Avondale and myself) to start working on a proposal for the creation of what would became known as Known World Mail. The proposal also listed various additional services that could be offered, and was submitted for the January 2002 Board Meeting, where it was approved. Because of the availability of "off the shelf" software, one of the additional projects, the On-Line Stock Clerk was the first project out the door, followed by Known World Mail and very shortly, On-Line Membership renewal and sign up. In April of 2002, the Board of Directors split the position of Electronic Publications Manager into two positions: Society Web Minister, to deal with the game-side (Policies, etc) and the Chief Information Architect, responsible for maintaining the main SCA Website and other projects such as the On-Line Stock Clerk, Known World Mail and On-line Memberships. THL Ducan MacAllister was appointed as the first Society Web Minister and I was appointed the first Chief Information Architect.
In November of 2003, the East Kingdom Web Minister, Lord Ronan Lynceus, applied for and got the Society Web Minister position. So, once again, I became the East Kingdom Web Minister. My initial two year term (the second time around) was up in January of 2006, at which time I turned it over to Sir Gabriel of Maccusell and stayed on as his deputy during the transition.
On April 16, 2005, my term as the first Chief Information was completed and I turned the office over to Maistor Iustinos Tekton called Justin.
At the moment, I'm Salamandar Pursuivant, Herald for the Barony of Bhakail and the Seneschal for the incipient Canton of Gleann nam Feòrag Dhuibhe, part of the Barony of Bhakail.
A little bit about Service...
Ok, I admit it -- I'm a service junkie. I have a terminal case of helium hand. So much so, in October 2002, Mu'allim Rabah az-Zafir officially took me on as his protegé. On March 29th, 2008, TRM Andreas and Gabriella elevated me and inducted me into the Order of the Pelican.
After much thought and discussion with Rabah and other peers who's opinion I value, I decided to take on a student of my own. This is as much a learning experience for me as it is for my student, Lord Corwyn Ravenwing. This iswas a chance for me to pass on the lessons I've learned to Corwyn and for Corwyn to help me learn how to deal with associates, to prepare me if before I'm ever was offered membership in the Order of the Pelican. It made no sense (at least to me), based on the direction my SCA career is going, to wait until after my elevation (if it ever happens) to learn how to do this.
I'm a court junkie, so I tend to sit through ALL of court. We'll, that's Robin in a not so small nutshell. Scratch me and I'll bleed, but I'll patch myself up, then offer to help you with your name and device! <Evil Grin>